The demand for custom coin work is increasing, but finding a reliable specialist in this area of expertise is difficult. It's often hard to convey your specific desires to machinists who are not magicians. As a Magician and Machinist, I can relate to your needs and desires, and I have the experience of working with machined coins & props using metal, wood and plastic.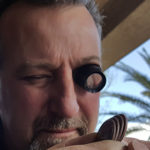 Custom Coin Work | Custom Props | Commercial Prototyping and Production
Metal
I can make just about any kind of metal prop that can be machined. I can make it from just about any metal; attention-grabbing aluminum, traditional brass and even from steel.
Wood
Wood is also a specialty. I focus on items that can be turned on a lathe such as Cups, Coin Boxes, Rings, Wands….you name it! I also work with exotic woods such as Chechen, Goncalo Aives, Paduak, Honduras Rosewood, Yellowheart, Purpleheart, Canary Wood and Mahogany.
Plastic
Most of my plastic work specializes in the using plastic as a colorful inlay to a wood or metal prop. I also can machine just about anything from plastic.
Custom Coin Work:
Have a problem finding coin props in your native currency, or have a special idea that you just don't see available in magic supply houses? Maybe I can help! I have done custom coin work for magicians throughout the world. No job is too small!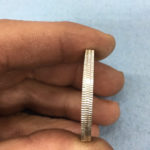 I can do just about anything with coins. I can manufacture expanded shells, shimmed coins, folding coins, "scotch and soda" types, locking coins, double-sided coins, copper/silver, gaffed……..you name it! If you have an idea for a coin or a set of coins, chances are I can make it happen. I have the machinery and years of experience behind me to make your idea a reality! Give me a call with your idea and we'll talk it over.
All coin effects are available in Euros!
Custom Props:
Have an idea on a magic prop but just do not have the time or resources to make one? Custom magic props are not beyond reach anymore! If you have an idea for a close-up magic prop and simply do not have the means to make your own, there is a chance that I can help. I can create the custom prop you're dreaming of! I can help you achieve the affect you want, and you can enjoy the feeling of being "part of the process"! Give me a call!
By the way, for an excellent example of the benefits of custom work, check out this short article on my Custom Cups & Balls.
Commercial Prototyping and Production:
Having a idea for a magic product and getting it from idea to a working, sell able product can be frustrating. If you have an idea and want to get it from a mere idea to production, perhaps I can help. I can help translate your idea into a workable, sell able product. I can make prototypes and even manufacture the end product. I specialize in close-up products, but can also design and manufacture mechanisms for larger products.
If you have an idea, give me a call and we can discuss the possibilities. Rest assured that your idea will be held in the strictest confidentiality.
Some of my past work includes producing prototypes and commercial products for Jay Sankey, Bob Farmer, David Ben, Danny Orleans, and Morrisey Magic.
Custom Work to Order:
To place an order Please fill out the form with your Message and I will contact you
This way you can be sure you'll get exactly what you want.