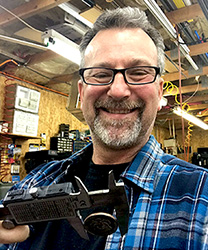 I am a Magician and Master Machinist, and since 1991, I have combined my passion for magic with my skills as an artisan to design & manufacture precision magic props for Magicians around the world. Along with my custom work, I now offer a select line of stock products, all of which I personally create. Many of my products are also tested and critiqued by a select group of other magicians I have found to be a source of inspiration and a good "second opinion" on my products. This ensures that you get the best possible end product available for spreading the joy of magic throughout the world. I invite you to peruse through my site here and see what I offer! Feel free to email or call with any questions you may have.

From the creative minds of Greg Gleason and Roy Kueppers comes this very cool effect. EFFECT; In front of the spectators eyes, a feather is used to penetrate right thru a quarter. it is clearly seen penetrating as it is pushed thru the coin. the feather can be seen protruding from the back side of the coin as it melts right thru. The complete penetration can be watched right till the last second. the coin can instantly be seen from front and back sides to show that the coin is solid and reveals no possible way for it to have penetrated. Full video explamation and instructions are included as well as two different colored feathers.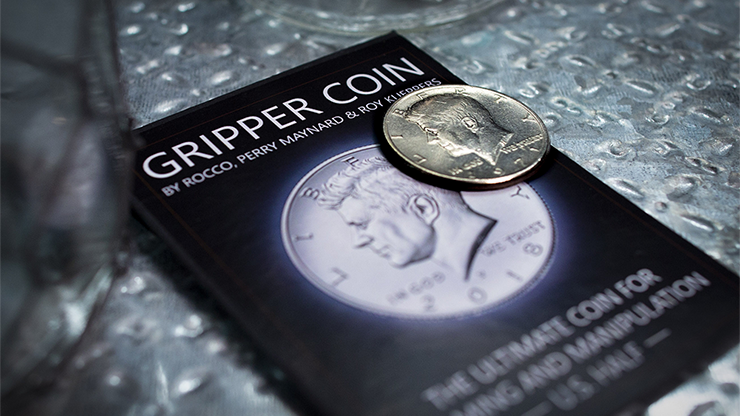 Introducing the Gripper Coins. The Gripper Coins are a special, handmade coin that has a space-age silicone band embedded into the edge of the coin which prevents it from slipping in just about any palming position you decide to use. For the beginner coin workers, the Gripper Coins will enhance your learning process immensely when you are practicing your various palming moves. And for the seasoned professionals, the Gripper Coins will give you that sure-locking feel in any of your desired coin palms. The Gripper Coin comes in 6 different denominations, the U.S. quarter, the U.S. half dollar, the Euro 50 cent piece, the British 10 pence, the U.S. Eisenhower and the English penny.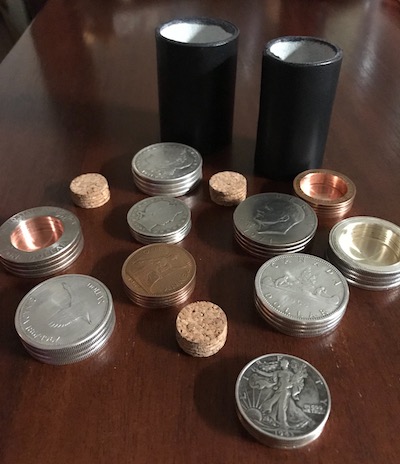 My Ramsay Stack and Cylinder sets are available in many different coin denominations. The coins in each set are soldered together and hollowed out to hold a cork, or other object. I even bore a recess into the bottom of the top coin to give more depth for the load. Each set includes a Leather cylinder, CSS (Cylinder Support Sleeve), Solid Coin Stack & 2 Corks. The CSS is a Kueppers innovation and is a tube that fits inside the cylinder during storage and travel to prevent it from collapsing. It is important that the cylinder remains round so it nests and denests from the stack with ease and without hanging up. From- Roy Kueppers - World of Magic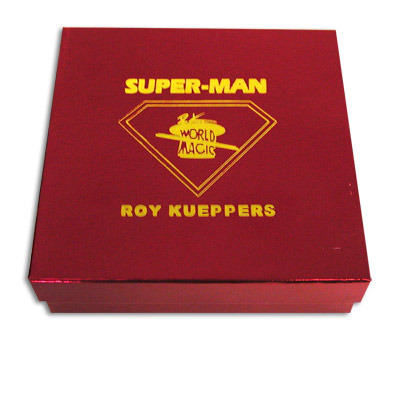 Effect: The Magician approaches an unknowing spectator and asks, "Do you have a quarter on you today, Ma'am?" The spectator proceeds to look for change in her pocket. The Magician then prompts, "Could you please sign the coin for me before I take it from you." (The coin does not need to be signed, but it adds to the effect's finale.) At this point, the Magician takes the coin, holding it in view of the spec, and says, "I'm going to try something here …You know what? You may be able to do the same as I do. Do you have another quarter?"
"These Boxes are absolutely beautiful. I just Love the way Roy machined these boxes. The edges are nicely rounded, the walls are nice and thick which works well for balancing a coin on, they are nicely polished and the weight is perfect. They also hold an Expanded shell which is what I wanted. What else can I say except that everything about them is just great"
"Over the years I've worked with a number of manufacturers, but I can say without reservations that Roy is one of the very best. Always professional, always knowledgeable, there is nothing he can't make. Roy manufactures some of the most beautiful props on the planet!"
"Roy Kueppers is a rare find in the world of magic....heck he's a rare find, period! A craftsman, a gentleman, and a magician, all rolled into one. But the best part about working with Roy is that he is always thinking. He never fails to improve upon our ideas and the final product is always better because of his input. If you are looking for quality, well crafted, custom coin work...stop now, because your search is over."
Your custom woodwork is just what I needed. Did I tell you I've had three other woodworkers try to make this special gimmick for me? But they had neither the patience, nor the attention for detail to get it right. You'll be hearing from me again soon.